Focus and Scope
Thematic scope of the collection:
-       geomechanics;
-       geotechnology;
-       mining machinery and equipment;
-       electrification and automation of mining practices;
-       economics, organization and management;
geoecology and labor protection.
The policy of publication:
Politics of publishing includes the system of measures aimed at achieving the main goal. The main purpose of the collection is the publication of the results of research aimed at improving existing and developing new high-performance and energy-saving technologies , processes and equipment that meet the modern requirements of market production , involving scientists, teachers and students of mining professions and experts in mining companies.
Section Policies
Статті
| | | |
| --- | --- | --- |
| Open Submissions | Indexed | Peer Reviewed |
Geomechanics
| | | |
| --- | --- | --- |
| Open Submissions | Indexed | Peer Reviewed |
Geotechnology
| | | |
| --- | --- | --- |
| Open Submissions | Indexed | Peer Reviewed |
Mining machinery and equipment
| | | |
| --- | --- | --- |
| Open Submissions | Indexed | Peer Reviewed |
Electrification and automation of mining
| | | |
| --- | --- | --- |
| Open Submissions | Indexed | Peer Reviewed |
Geoecology and labour protection
| | | |
| --- | --- | --- |
| Open Submissions | Indexed | Peer Reviewed |
Physical processes of mining
| | | |
| --- | --- | --- |
| Open Submissions | Indexed | Peer Reviewed |
Economics, organization and management
| | | |
| --- | --- | --- |
| Open Submissions | Indexed | Peer Reviewed |
Open Access Policy
Herald of the National Technical Univercity of Ukraine ''Kyiv Politechnical Institute'' Series of Mining is an open access journal. All articles are free for users to access, read, download, and print.By "open access", we mean free availability on the public internet, permitting any users to read, download, copy, distribute, print, search, or link to the full texts of these articles or use them for any other lawful purpose. 
Licence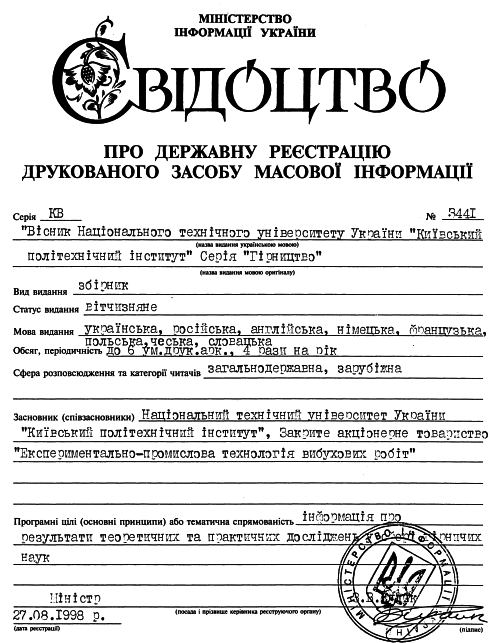 Publication Frequency
This journal is published four times a year (as filling)
Publication Fee
The Journal charges €35 of article processing fee to cover the costs induced by editing and reviewing process, efficient publication service to the authors, i.e. peer-reviewing, proofreading, typesetting, but air mailing for a fee.
Journal Indexing
Google Scholar  is a freely accessible web search engine that indexes the full text or metadata of scholarly literature across an array of publishing formats and disciplines. Google Scholar index includes most peer-reviewed online journals of Europe and America's largest scholarly publishers. This product provides the citation indexing features. While Google does not publish the size of Google Scholar's index, third-party researchers estimated it to contain roughly 160 million documents. 
Open Academic Journals Index (OAJI) is a full-text database of open-access scientific journals. Founder —International Network Center for Fundamental and Applied Research, Russian Federation Its mission lies in putting together an international platform for indexing open-access scientific journals. Open access means that content is in free access for any user. Open access implies that users will be able to read, download, copy, distribute, print, search, or reference full article texts in the journal without having to ask for prior permission from the publisher or the author. Academic publications are scientific journals published by universities, scientific centers, and scientific publishing houses all across the world. 
Citefactor is a service that provides access to quality controlled Open Access Journals. The Directory indexing of journal aims to be comprehensive and cover all open access scientific and scholarly journals that use an appropriate quality control system, and it will not be limited to particular languages or subject areas. The aim of the Directory is to increase the visibility and ease of use of open access scientific and scholarly journals thereby promoting their increased usage and impact. 
ResearchBib is open access with high standard indexing database for researchers and publishers. Research Bible may freely index journals, research papers, call for papers, research position. They share a passion to build research communities to discover and promote great research resources from around the world and maximize researchers' academic social impacts.
Services: ResearchBib archives journal articles, conference proceedings freely
ResearchBib tries to cover all open access scientific and scholarly journals freely
ResearchBib tries to cover all scientific and scholarly events freely
ResearchBib helps students/researchers to prepare for the changing demands of today's job market.
Bielefeld Academic Search Engine  (BASE) is one of the world's most voluminous multi-disciplinary search engines especially for academic open access web resources. This engine collects, normalises, and indexes data using the Open Archives Initiative Protocol for Metadata Harvesting (OAI-PMH). BASE provides more than 70 million documents from more than 3,000 sources. Where available, bibliographic data is provided, and the results may be sorted by multiple fields.
WorldCat  is a global union catalog and the world's largest bibliographic database that itemizes the collections of 72,000 libraries in 170 countries that participate in the Online Computer Library Center (OCLC) global cooperative. It contains more than 330 million records, representing over 2 billion physical and digital assets (articles, archival materials, books, journals, maps, music, videos, and other resources) in 485 languages.
OpenAIRE - database of scientific articles. All publications that go through grant programs of EU research and technology published for public access.
In addition, the OpenAIRE indexed articles such great servers like arXiv.org and Europe PubMed Central (over three million publications) as well as articles from more than 600 other sources.
According to updated statistics OpenAIRE, five European countries with the largest number of published articles in open access form the Netherlands (654,000 articles), Spain (604), Great Britain (585), Germany (580) and Russia (525).
Universal Impact Factor ( UIF ) is founded for improving Impact Factors of journals with the help of its growing article database. A huge database of articles from various countries in different disciplines helps providing quality information to the researchers.
UIF maintains academic database services to researchers, journal editors and publishers. UIF focuses on: citation indexing, citation analysis, and maintains citation databases covering thousands of academic journals. Also UIF provides a detailed report of individual journal for further improvement of respective journal overall look up and technical aspect for better Impact Factor.
Peer Review Process